A Divorce in 3 Months? It's Possible!
The last thing that you need when you are going through a divorce is delay.
Divorce is hard enough.  You don't need a legal battle too.
Often times, the road leading to divorce is a difficult and long one.  You have fought through the many ups and downs in your marriage, and you have done everything you can think of to keep the marriage intact.
Once you know that the marriage is going to end, you don't want to sit in limbo and wait for six months before you can take steps to start the next chapter in your life.
HOW TO AVOID DELAY:
The Collaborative Divorce Process was built to help you resolve your divorce quickly and professionally.  Your attorney will work with you honestly and in good faith to help you settle your divorce.  He or she will work hard and advocate for you to reach a custom settlement agreement that meets your specific needs and goals in divorce.
I litigated divorce cases in Palm Beach County for over 12 years.  Litigation is not the best tool for divorce.  Helping individuals to settle their divorce, without litigation, is far more beneficial to everyone involved.  Helping to craft legal solutions that best fit you and your finances and your family allows me to play a much more valuable role in the process.
Experienced divorce attorneys are far more valuable and helpful, in my opinion, when they are working to help individuals like you settle the legal issues involved with your divorce.
FIXED FEES:
The uncontested approach to divorce also allows you to hire your divorce attorney on a fixed fee basis instead of the traditional hourly model.  This is another major advantage that reduces the stress of a divorce.
Our law firm publishes the fixed fee schedule on our website for you to view at any time.
HOW DO I GET STARTED?
We have updated our website to provide the option of booking your own virtual consultation with an experienced divorce attorney. Click here to book now.
Phone: (561) 537-8227
About the Author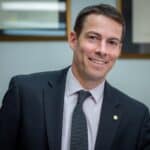 Chadwick M. Layton is a marital law and divorce attorney at Mindful Divorce, P.A. in Palm Beach County, FL.  Mr. Layton is also a member of the Florida Bar Family Law Section, the Susan B. Greenberg Family Law American Inn of Court of the Palm Beaches and the Palm Beach Flagler Rotary Club.
Mindful Divorce P.A.
205 Worth Ave. Suite 303
Palm Beach, FL 33480
Phone (561) 537-8227
Office E-Mail: Chad@mindfuldivorcepa.com
Subscribe to our newsletter