How Do I Avoid Going To Court In My Divorce?
I should start off by clarifying that I am happily married. However, I have been helping good people navigate the difficult process of divorce for more than eleven years in Palm Beach County.
During my career as a divorce attorney, I have learned some important lessons about divorce:
1. For starters, most people going through a divorce don't want to fight. Yes, that is the truth, they don't want to fight. Most people that we have helped over the years were seeking out professional help to amicably settle the many issues in their divorce. They wanted a professional that knows the rules and law of divorce. This expertise allowed them to avoid delays and properly address the financial and family issues of their divorce.
2. People want to know the cost. Fixed fee employment agreements are preferred by clients. This provides a clear schedule of services to be rendered by the attorney and the cost. Hourly fee agreements are much less transparent and can cause additional stress. We began offering fixed fee agreements in 2020 and have not looked back.
3. Controlling behavior is the number one reason I have seen for divorce. Money is the most common tool used to exert this control over the other spouse. Almost all couples have arguments over money and finances. This is normal. One spouse withholding funds from the other to gain control and dominance is not normal. One spouse acting as a gatekeeper for the money is not normal. Please don't do this. It will likely lead your spouse to my office.
About the Author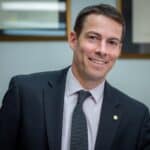 Chad M. Layton is a marital law and divorce attorney at Mindful Divorce, P.A. in Palm Beach County, FL.  Mr. Layton is also a member of the Florida Bar Family Law Section, the Susan B. Greenberg Family Law American Inn of Court of the Palm Beaches and the Palm Beach Flagler Rotary Club.
Mindful Divorce P.A.
205 Worth Ave. Suite 303
Palm Beach, FL 33480
Phone (561) 537-8227
Office E-Mail: Chad@mindfuldivorcepa.com
Subscribe to our newsletter