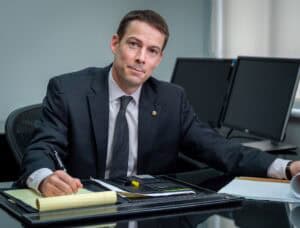 Marital & Family Attorney
Managing Partner, Mindful Divorce, P.A.
Chad and the team at Mindful Divorce approach divorce differently.  We see divorce as much more than documents that have to be filed with the court, and lawyers wasting your time and money fighting over issues that really aren't important to you.
Instead, Chad works with each client to find out what is most important to them in the divorce process.
How can we help you accomplish your goals in divorce?
Is there a path that we can take to help you and your family get through your divorce without making enemies of one another?
Is collaborative divorce a good option for you?
Traditional divorce law firms in Palm Beach County have for the most part ignored the emotional and financial cost of divorce. The consistent delays and unknown cost of divorce has wreaked havoc on the lives of many. Other law firms have failed to adapt to the spiraling costs of divorce. Instead, they simply keep doing more of the same and they keep getting the same results – unhappy clients.
Chad works with you to obtain a better result.  A result that doesn't end with you and your spouse leaving the courthouse upset and confused as to what happened.  Instead, our approach to divorce is focused on helping you through divorce without causing unnecessary delays, unnecessary costs, or unnecessary fighting.  We work to help our clients, not to rack up more fees and costs.  Here is a link to our client google reviews.  Mindful Divorce Reviews
We provide you with an option to work with us for a fixed fee.  No surprises, no games.  Here is a link to fixed fees.  Mindful Divorce Fixed Fees
If you invite us to help you in your divorce,  we get to work to help you accomplish your most important goals in you divorce. We help you find solutions.
Chad and the team at Mindful Divorce P.A. handle family law matters that include divorce, collaborative divorce, and prenuptial agreements.
Chad is a founding member of the Susan B. Greenberg Family Law Inn of Court in Palm Beach County. He also currently serves on the executive programming committee for the Susan B. Greenberg Family Law Inn of Court. Chad also is a member of the Palm Beach Flagler Rotary Club and serves on the Foundation Board of the Rotary Club, and he is a member of the International Academy of Collaborative Professionals and he is a member of the Palm Beach Association of Collaborative Professionals.
Outside of the office, Chad is a Florida native born here in Palm Beach County, a proud father of two beautiful daughters, happily married, a competitive tennis player and a nature enthusiast.