How to Handle Your Estate Plan, Last Will, and Other Important Matters Following a Divorce
When you're married, your Last Will & Testament likely provides that your spouse will be the sole beneficiary of your estate.
What happens when you get divorced?
The good news is that in most cases your former spouse will not receive your entire estate if you pass away after your final judgment of divorce is entered.
Florida Statute 732.507 provides that a provision in a will executed by a married person that affects their spouse will become void upon the entry of a divorce.  The will should be construed as if the former spouse had died at the time of the divorce.
This is a rule of revocation that is implied by law and recognizes that certain circumstances in life create the presumption of an intent to change the terms in a Last Will.
However, you should meet with an Estate Planning attorney after your divorce is finalized to define how the assets of your estate will be distributed now that you are single and to officially remove your former spouse from your estate plan.
If you have questions about divorce, call us to schedule an initial consultation.
Working with each client to achieve a low conflict divorce allows our firm to provide fixed fee divorce options.
About the Author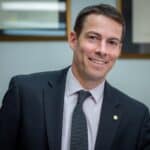 Chadwick M. Layton is a marital law and divorce attorney at Mindful Divorce, P.A. in Palm Beach County, FL.  Mr. Layton is also a member of the Florida Bar Family Law Section, the Susan B. Greenberg Family Law American Inn of Court of the Palm Beaches and the Palm Beach Flagler Rotary Club.
Mindful Divorce P.A.
205 Worth Ave. Suite 303
Palm Beach, FL 33480
Phone (561) 537-8227
Office E-Mail: Chad@mindfuldivorcepa.com
Subscribe to our newsletter