Prenuptial Agreement For Small Business Owners
Small business owners are different.  I know this because I am one of those "different" small business owners.
The owner of any successful small business has undoubtedly worked countless hours to learn his or her craft, build the skills and reputation required to master this craft and then ventured out on their own to build a business that  serves a specific need for clients/customers.
Once a small business becomes established and is generating regular profits, the entity will begin to accumulate its own value.  The business itself is worth something.
The actual value of the business can be debated by educated individuals and even business valuation experts.  However, the market value of the business is often times secondary to the actual profits created by the business in the eye of the business owner.  This can be for a multitude of reasons including the fact that the business owner may have no plans of selling the business anytime soon.
The cash flow and profits from the business are in most cases much more important to the business owner.  The value of the business will take care of itself if the fundamentals are in good order.
The successful business owner considering marriage will more times than not ask how marriage may affect his or her ownership interest in the business.  The answer is – greatly.
The next question that quickly follows is, what can be done to protect my ownership interest in the business?  The answer is a well drafted and enforceable prenuptial agreement.
Our firm is experienced and trained in the intricacies of protecting small business owners by way of prenuptial agreements and in the process of divorce.  We provide these legal services at fixed fees which are published on our website.  We have a track record of minimizing the exposure of small business owners in marital law.
If you or a friend has a questions about marital law, please do not hesitate to call or email us to schedule an initial consultation.
About the Author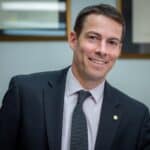 Chadwick M. Layton is a marital law and divorce attorney at Mindful Divorce, P.A. in Palm Beach County, FL.  Mr. Layton is also a member of the Florida Bar Family Law Section, the Susan B. Greenberg Family Law American Inn of Court of the Palm Beaches and the Palm Beach Flagler Rotary Club.
Mindful Divorce P.A.
205 Worth Ave. Suite 303
Palm Beach, FL 33480
Phone (561) 537-8227
Office E-Mail: Chad@mindfuldivorcepa.com
Subscribe to our newsletter