Divorce Continues in Palm Beach County – Via Zoom
Don't let your process get hung up by lawyers who want to delay your divorce!
Virtual divorce works in Palm Beach County.  The novel coronavirus has changed how we help clients navigate and resolve their divorce cases in Palm Beach County.  Virtual court hearings and virtual mediation conferences are the new normal.
The Judges, Clerk of Court and Certified Family Law Mediators in Palm Beach County have established clear procedures for us to attend mediation conferences and to attend court hearings via zoom while remaining at home and safe.
Hello sign and other technology has allowed us to gather client signatures electronically over the internet.
Virtual zoom consultations have allowed us to communicate regularly with our existing clients and to meet with new clients to answer important questions regarding divorce and to work with them to file for divorce.
We have updated our website to provide the option of booking your own virtual consultation with an experienced divorce attorney. Click here to book now.
The new normal brings many challenges.  However, the entire family law community has adapted to meet the needs of those going through divorce.
Additional information is available at our website or by calling in to schedule a virtual divorce consultation.
About the Author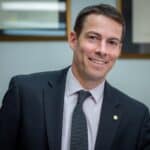 Chadwick M. Layton is a marital law and divorce attorney at Mindful Divorce, P.A. in Palm Beach County, FL.  Mr. Layton is also a member of the Florida Bar Family Law Section, the Susan B. Greenberg Family Law American Inn of Court of the Palm Beaches and the Palm Beach Flagler Rotary Club.
Mindful Divorce P.A.
205 Worth Ave. Suite 303
Palm Beach, FL 33480
Phone (561) 537-8227
Office E-Mail: Chad@mindfuldivorcepa.com
Subscribe to our newsletter