Child Support – How Much Is It?
A child support obligation is different in every case.
The first issue to address is whether or not there are any minor children born to the marriage.  Children under the age of 18 are generally considered minor children for the purposes of determining a child support obligation in divorce.
The major factors used to determine the child support owed are:
Number of Children.
Income of each parent.
Health Insurance Costs for the child(ren).
Number of overnights the child(ren) will spend with each parent after the divorce on a monthly basis.  This information should be included as part of the parenting plan in the divorce.
Once these variables are determined in the divorce action, a divorce attorney should have access to child support guidelines software to provide the exact amount of the monthly child support obligation.
This financial obligation will then be incorporated into the final marital settlement agreement for the parties.  Further, the attorney should draft a separate income withholding order which will allow for the monthly child support obligation to come directly out of the paycheck of the parent whom owes the child support.
This amount will then be directly deposited each month into the bank account of the parent whom receives the child support payment.  The child support obligation should automatically terminate upon the child turning 18 or graduating from high school, whichever occurs first.
A child support calculation is required in divorce actions where the parties have minor children.
The law firm you choose in divorce should match your goals for divorce.
About the Author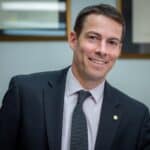 Chadwick M. Layton is a marital law and divorce attorney at Mindful Divorce, P.A. in Palm Beach County, FL.  Mr. Layton is also a member of the Florida Bar Family Law Section, the Susan B. Greenberg Family Law American Inn of Court of the Palm Beaches and the Palm Beach Flagler Rotary Club.
Mindful Divorce P.A.
205 Worth Ave. Suite 303
Palm Beach, FL 33480
Phone (561) 537-8227
Office E-Mail: Chad@mindfuldivorcepa.com
Subscribe to our newsletter