The Divorce is Over, Now What?
THE DIVORCE IS OVER, NOW WHAT?
Most divorces end with a final marital settlement agreement.  The  settlement agreement will address all of the important legal issues in your divorce.
Your attorney will then coordinate a final uncontested hearing to have a judge review and ratify your agreement to finalize the divorce.
The Judge will ratify the agreement and you will walk out of the courtroom as a single person.
This is not the end of the divorce.
There are a number of details contained in your marital settlement agreement that must be addressed.  Often times, terms contained in the agreement require that you or your spouse will receive a certain number of dollars from a retirement account, 401k, brokerage account or other account.  Additionally, you may receive a specific amount of dollars for your portion of equity in the marital home.  If alimony is applicable in your divorce, you or your spouse will be required to pay alimony after the divorce if finalized.
Each of these issues require that your attorney take action after your final judgment of divorce is entered.  Distributions from certain types of retirement accounts will require a qualified domestic relations order.  Alimony and child support will require an income withholding order.  Equity from the marital home often times requires a refinance.
Hiring a professional will assure that you are not left with unfinished business and back in court dealing with your ex.
If you have questions about divorce, call us to schedule an initial consultation.
Working with each client to achieve a low conflict divorce allows our firm to provide fixed fee divorce options.
About the Author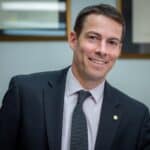 Chadwick M. Layton is a marital law and divorce attorney at Mindful Divorce, P.A. in Palm Beach County, FL.  Mr. Layton is also a member of the Florida Bar Family Law Section, the Susan B. Greenberg Family Law American Inn of Court of the Palm Beaches and the Palm Beach Flagler Rotary Club.
Mindful Divorce P.A.
205 Worth Ave. Suite 303
Palm Beach, FL 33480
Phone (561) 537-8227
Office E-Mail: Chad@mindfuldivorcepa.com
Subscribe to our newsletter