Collaborative Divorce – Why Time Matters
One of the many benefits of settling your divorce outside of court is time.  The Collaborative Divorce process allows you to settle your divorce and move on with your life in three months without litigation.
The truth is that most divorce matters don't need to go to court.  A responsible alternative to a litigated divorce is for you to hire an experienced professional to help you and your spouse to settle your divorce in a responsible and professional manner based upon the unique finances of your marriage.
This avoids the animosity and emotional damage that is often associated with a contested divorce.  Going through a divorce should not be a legal battle.
The Collaborative Divorce option is designed to help spouses that have worked hard to build a comfortable financial life and that have no interest in wasting their time, money and energy to "fight" in court.
Our law firm will pledge not to go to court at the outset of our relationship with you.  This changes the entire dynamic of your divorce.  We will then immediately focus on accomplishing your most goals in divorce .
We are not here to help you win you divorce.  There will be no winners or losers in your divorce.  We will help you to remain an intact family and to preserve and protect what you have worked hard to build.
Attorney Fees:
Another benefit to the Collaborative Divorce process is that there will be no hourly attorney fees charged to you.  We will provide you with a written fixed fee employment agreement.
We won't go to court to fight.  We won't charge you hourly fees.  We won't surprise you with additional costs.
Our fixed fees are published on our website at:  https://www.mindfuldivorcepa.com/fixed-fees/
How Do You Get Started?
Our law firm is located in Palm Beach County and we offer both in person and Zoom Collaborative Divorce consultations to fit your schedule.
Our initial consultations provide you with a one-on-one session with our experienced divorce attorney, Chadwick M. Layton, Esq.  Mr. Layton has been practicing Family Law and handling divorce matters in Palm Beach County for over 13 years.
During your initial consultation, Mr. Layton will work with you to identify the goals that are most important to you in achieving a successful Collaborative Divorce.
About the Author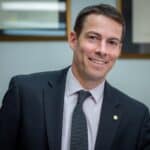 Chadwick M. Layton is a marital law and divorce attorney at Mindful Divorce, P.A. in Palm Beach County, FL.  Mr. Layton is also a member of the Florida Bar Family Law Section, the Susan B. Greenberg Family Law American Inn of Court of the Palm Beaches and the Palm Beach Flagler Rotary Club.
Mindful Divorce P.A.
205 Worth Ave. Suite 303
Palm Beach, FL 33480
Phone (561) 537-8227
Office E-Mail: Chad@mindfuldivorcepa.com
Subscribe to our newsletter