Collaborative Divorce Puts the Children First
As responsible parents, we all work hard to do the best we can for our children.  This responsibility and discipline to do what is best for your children does not go away in divorce.  In fact, your desire and discipline to do what is best for your children is heightened when you are considering divorce.
We understand how important your children are to you.  The values that you and your spouse have instilled in your children must be considered and followed during the divorce process.
The Collaborative Divorce process allows us to start our employment relationship with you by entering into a written pledge not to go to court.  Yes, you read that correctly.  We agree with you in writing not to go to court.
Instead of going to Court to fight, we act as your guide and your advocate in the Collaborative Divorce process.  We take into consideration the age and emotional development stage of each of your children and then we work with you and a neutral mental health professional to develop a customized parenting plan to assure that your children continue to thrive and love and be happy.
Our pledge not to go to court changes the entire dynamic of your divorce.  We focus on accomplishing your goal to promote the well-being of your children and your family instead of fighting.  We are not here to help you win and make sure that your spouse loses.  There will be no winners or losers in your divorce.  There will be an intact family that we preserve and protect during the Collaborative Divorce Process.
We will work in a cooperative manner to obtain the best outcome for your children.  We will then take care of the administrative process of finalizing your divorce agreement with the Court for you.
Attorney Fees:
Another benefit to the Collaborative Divorce process is that there will be no hourly attorney fees charged to you.  We will provide you with a written fixed fee employment agreement.  We will then get to work on helping you and your family to resolve your divorce in a professional and respectful manner.
We won't go to court to fight.  We won't charge you hourly fees.  We won't surprise you with additional costs.
Our fixed fees are published on our website at:  https://www.mindfuldivorcepa.com/fixed-fees/
How Do You Get Started?
Our law firm is located in Palm Beach County and we offer both in person and Zoom Collaborative Divorce consultations to fit your schedule.
Our initial consultations provide you with a one-on-one session with our experienced divorce attorney, Chadwick M. Layton, Esq.  Mr. Layton has been practicing Family Law and handling divorce matters in Palm Beach County for over 13 years.
During your initial consultation, Mr. Layton will work with you to identify the goals that are most important to you in achieving a successful Collaborative Divorce.
About the Author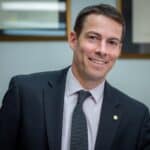 Chadwick M. Layton is a marital law and divorce attorney at Mindful Divorce, P.A. in Palm Beach County, FL.  Mr. Layton is also a member of the Florida Bar Family Law Section, the Susan B. Greenberg Family Law American Inn of Court of the Palm Beaches and the Palm Beach Flagler Rotary Club.
Mindful Divorce P.A.
205 Worth Ave. Suite 303
Palm Beach, FL 33480
Phone (561) 537-8227
Office E-Mail: Chad@mindfuldivorcepa.com
Subscribe to our newsletter