Collaborative Divorce Puts YOU in Control
The goal or intended outcome in a litigated divorce is not always clear.  In some bad examples, a litigated divorce is a long drawn out court battle that leads to nowhere.  A judge will render a final judgment after a contested trial that may not make either spouse feel like they "won".
In contrast to litigation, Collaborative Divorce allows us to state our intended goal from the outset of the matter in very clear terms.  The goals for your divorce in the Collaborative process are determined by you and set out in very clear terms.
The intended outcome in your Collaborative Divorce is very clear.  In fact, we will work with you to spell out your most important goals at the outset of our employment relationship with you.  The goals that you define for your Collaborative Divorce often  address how you will move forward in the immediate future after the divorce, how your family will be treated with respect throughout the process and how your financial security will look following the divorce.
Collaborative Divorce allows us to enter into a written agreement to have your divorce settled outside of court.  Therefore, a judge that you have never met will no be the decision maker for the most important things in your life.  You will be the decision maker.
We will provide you with legal advice and guidance to assure that no mistakes are made and that the final resolution for your divorce is fair and meets with all requirements under the law.
How does collaborative divorce work?
Our law firm is located in Palm Beach County and we offer both in person and Zoom initial consultations to fit your schedule.
Our initial consultations provide you with a one-on-one session with our experienced divorce attorney, Chadwick M. Layton, Esq.  Mr. Layton has been practicing Family Law and handling divorce matters in Palm Beach County for over 13 years.
During your initial consultation, Mr. Layton will work with you to identify those goals that are most important to you to resolve your divorce promptly and without litigation.
We have updated our website to provide the option of booking your own virtual consultation with an experienced divorce attorney. Click here to book now.
Phone: (561) 537-8227
Fixed Fes:
Mr. Layton will also provide you with a fixed fee option to hire our law firm to resolve your divorce.   We are not like other law firms that charge you over $400.00 per hour with no cap on what you may be required to pay.  We will provide you with a fixed fee schedule.  This schedule is also published on our website for you to view at any time:  https://mindfuldivorcepa.com/fixed-fees/
Client Reviews/Reputation:
Our law firm treats clients differently.  We are here to help you resolve your divorce.  We are not here to fight your divorce out in court and earn higher hourly fees the more you fight.  We help clients to avoid the emotional and financial cost of a drawn out legal battle.
We are proud of our reputation and the google reviews left by our satisfied clients.
We encourage you to check on google to see what our clients say about us and what they say about our competitors before you schedule your initial consultation.  The divorce attorney that you hire to help you with your divorce will play a key role in how your divorce is resolved
About the Author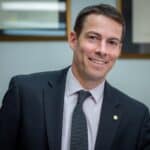 Chadwick M. Layton is a marital law and divorce attorney at Mindful Divorce, P.A. in Palm Beach County, FL.  Mr. Layton is also a member of the Florida Bar Family Law Section, the Susan B. Greenberg Family Law American Inn of Court of the Palm Beaches and the Palm Beach Flagler Rotary Club.
Mindful Divorce P.A.
205 Worth Ave. Suite 303
Palm Beach, FL 33480
Phone (561) 537-8227
Office E-Mail: Chad@mindfuldivorcepa.com
Subscribe to our newsletter