Divorce FAQ #2 – Where Should I File For Divorce?
Many of us in Palm Beach County are transplants that have moved here from another State or Country.  Those residents that were married outside of Florida very often ask, where do I file for divorce?
The answer is that you should file for divorce here in Palm Beach County.  The legal requirement to file for divorce in Palm Beach County is that you have been a resident of Florida for at least 6 months before you file for divorce.  The court then has jurisdiction to grant you a final judgment of divorce and to address all of your assets, including those assets located outside of Florida.
The venue and jurisdiction for your divorce will play an important role in the time required to complete your divorce and how it is decided.  Additionally, the convenience of handling your divorce in Palm Beach County is substantial.  You do not want to go through a divorce that is filed by a spouse that has moved outside of your county.
You will need to appear in court on at least one occasion and attend one mediation conference.  These events will be held in the county where your divorce is filed.  You will also want the opportunity to meet with your divorce attorney face to face and assure that he or she is experienced with divorce matters in the county where your divorce is filed.
Working with each client to achieve a low conflict divorce allows our firm to provide clients with a fixed fee divorce option.  Our fixed fees are published on our website at: http://www.mindfuldivorcepa.com  under fixed pricing.
If you or a friend has questions about divorce, do not hesitate to call us to schedule an initial divorce consultation.  We offer video consultations and office consultations.
About the Author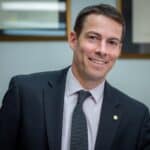 Chadwick M. Layton is a marital law and divorce attorney at Mindful Divorce, P.A. in Palm Beach County, FL.  Mr. Layton is also a member of the Florida Bar Family Law Section, the Susan B. Greenberg Family Law American Inn of Court of the Palm Beaches and the Palm Beach Flagler Rotary Club.
Mindful Divorce P.A.
205 Worth Ave. Suite 303
Palm Beach, FL 33480
Phone (561) 537-8227
Office E-Mail: Chad@mindfuldivorcepa.com
Subscribe to our newsletter