Divorce FAQ #1 – What Happens If I Move Out Of The House?
One common question in divorce is: If I move out of our marital home before we are divorced, will I waive any of my rights?
The answer is no.  Often times, one spouse will decide that continuing to live under the same roof during the divorce is not a good idea for anyone involved.
Moving out of the marital home will not cause you to waive any of your ownership interest in the home.  This is simply a temporary solution to provide each spouse with some space during a difficult time.
However, several issues should be addressed when one spouse moves out of the home.  In a perfect world these issues may be addressed prior to the move out date.  How will the bills of the marital home be paid?  What personal items and furnishings may the spouse moving out seek to bring with him or her?  If there are minor children, what regular time-sharing schedule will we follow to assure both parents are spending quality time with the children each week?  Is there a need for temporary financial assistance to either spouse and if so, how much?
The simple answer is that either spouse can move out of the home without waiving or reducing their claim to the home.  However, like many things in life, substantial work must be done to accomplish a successful divorce.  A legal action must be filed with the court, a fair equitable distribution of assets and liabilities must be accomplished and many other issues must be addressed before a Judge will sign the Final Judgment of Dissolution of Marriage.
Working with each client to achieve a low conflict divorce allows our firm to provide clients with a fixed fee divorce option.  Our fixed fees are published on our website at: http://www.mindfuldivorcepa.com  under fixed pricing.
If you or a friend has questions about divorce, do not hesitate to call us to schedule an initial divorce consultation.
About the Author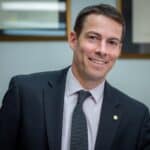 Chad Layton is a marital law and divorce attorney at Mindful Divorce, P.A. in Palm Beach County, FL.  Mr. Layton is also a member of the Florida Bar Family Law Section, the Susan B. Greenberg Family Law American Inn of Court of the Palm Beaches and the Palm Beach Flagler Rotary Club.
Mindful Divorce P.A.
205 Worth Ave. Suite 303
Palm Beach, FL 33480
Phone (561) 537-8227
Office E-Mail: Chad@mindfuldivorcepa.com
Subscribe to our newsletter