How to Slow Down and Listen During The Hectic Divorce Process
The appointment was over before I had a chance to ask the dermatologist anything.  He came into the examination room, grabbed a bottle of liquid nitrogen and zapped a couple of spots on my shoulder.  He was gone.
The doctor rushed out of the room and instructed the nurse to take a look at the rest of my body and add notes to the file.  The appointment that I scheduled months ago and waited forty five minutes in the waiting room for lasted less than five minutes.
We are all busy.  We rush through the day to survive.  We don't have enough time.  However, there are times when we need to slow down and listen.  Doctor's appointments and attorney meetings are both examples of times when we must slow down and listen.
I have met with potential clients in divorce matters for more than eleven years.  The most important skill I have learned during that time is to slow down and listen.  This appointment is a big deal for every person that comes in to discuss a potential divorce.
They have built a life with their spouse.  They don't know how a divorce would change their life.  They have important questions about their family, their home, their retirement, their business and their future.  What options do they have.  What should they expect in divorce.  How will life look for them once the divorce is complete.  How long will it take.  How much will it cost.
The more I listen the better job I do for the client.  Slowing down and listening to the client every time is just as important as going to law school and gaining years of experience in divorce.
If you have questions about divorce, call us to schedule an initial divorce consultation.
Working with each client to achieve a low conflict divorce allows our firm to provide fixed fee divorce options.  Our fixed fees options are published on our website at: http://www.mindfuldivorcepa.com  under fixed pricing.
About the Author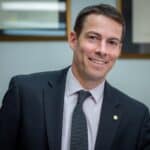 Chadwick M. Layton is a marital law and divorce attorney at Mindful Divorce, P.A. in Palm Beach County, FL.  Mr. Layton is also a member of the Florida Bar Family Law Section, the Susan B. Greenberg Family Law American Inn of Court of the Palm Beaches and the Palm Beach Flagler Rotary Club.
Mindful Divorce P.A.
205 Worth Ave. Suite 303
Palm Beach, FL 33480
Phone (561) 537-8227
Office E-Mail: Chad@mindfuldivorcepa.com
Subscribe to our newsletter