Don't Cut Corners in a Prenuptial Agreement
Looking for a "cheap" prenup lawyer? Don't do it.
A client came in to our office recently for a divorce consultation. She brought with her a copy of the prenuptial agreement executed by her and her husband ten years ago.
Generally, my review of the prenuptial agreement would take quite some time. However, in this case it took less than five minutes. The agreement was one page. Almost no financial disclosures were provided.
Additionally, the agreement was signed by the parties the day before they were married. The Wife received notice the day before their wedding that Husband required her to execute a prenuptial agreement. She was told, sign it or I am cancelling the wedding.
This agreement will not be enforceable.
Prenuptial agreements provide an opportunity for two parties to enter into a contract with respect to their property, rights and obligations before they marry. A valid prenuptial agreement will govern and apply in the event that a divorce should occur in the future. However, the drafting and execution of prenuptial agreements must comply with Florida Family Law Statutes and Case Law to be enforceable.
Specific requirements must be met to create an enforceable prenuptial agreement.
Two fundamental requirements of a valid prenuptial agreement are:
(1) Fair and reasonable disclosure of property and assets must be provided to each party prior to signing the agreement.
(2) Reasonable time must be afforded to both parties to review and accept the terms of the agreement before the marriage. (Our firm requires that prenuptial agreements we draft are executed at least 14 days prior to the marriage.)
If you have questions about a prenuptial agreement or divorce, call us to schedule an initial consultation.
About the Author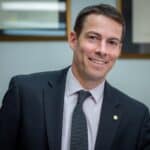 Chadwick M. Layton is a marital law and divorce attorney at Mindful Divorce, P.A. in Palm Beach County, FL.  Mr. Layton is also a member of the Florida Bar Family Law Section, the Susan B. Greenberg Family Law American Inn of Court of the Palm Beaches and the Palm Beach Flagler Rotary Club.
Mindful Divorce P.A.
205 Worth Ave. Suite 303
Palm Beach, FL 33480
Phone (561) 537-8227
Office E-Mail: Chad@mindfuldivorcepa.com
Subscribe to our newsletter