Low-to-No Conflict Divorce
HOW WE MAKE THE DIVORCE PROCESS EASIER
How do I avoid a difficult divorce?  I hear folks as me this question frequently. A difficult divorce can come in many different varieties in my experience.  One example is where the divorce is emotionally charged and one or both spouses seek to cause stress and emotional anguish upon the other.  Contrary to popular belief, this is the exception and not the norm in my ten plus years guiding individuals through the process of divorce.
Another example of a difficult divorce is where the spouses fall into a highly litigated court battle that benefits nobody but the lawyers.  This can be caused by unethical legal counsel that adds fuel to the fire.  This type of unethical conduct leads a client down a road that includes a drawn out divorce that is both emotionally and financially draining.  Fortunately, this is also the exception rather than the norm in my experience.
The truth is that clients are not dumb.  They recognize quickly when the firm or lawyer that they have hired to help them through a very difficult time in their life is taking advantage of the situation.
Nearly every prospective client that I meet with is seeking to dissolve their marriage, identify and obtain a reasonable final marital settlement agreement and avoid delays and mistakes.  This simple set of goals is what our firm has built our business around – providing clients with ethical and experienced legal counsel to accomplish a low conflict and timely divorce.
Working with each client to achieve a professional and low conflict divorce allows our firm to provide clients with a fixed fee divorce option.  Our fixed fees are published on our website at: http://www.mindfuldivorcepa.com  under fixed pricing.
If you or a friend has questions about divorce, do not hesitate to call us to schedule an initial divorce consultation.
About the Author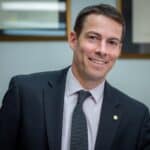 Chadwick M. Layton is a marital law and divorce attorney at Mindful Divorce, P.A. in Palm Beach County, FL.  Mr. Layton is also a member of the Florida Bar Family Law Section, the Susan B. Greenberg Family Law American Inn of Court of the Palm Beaches and the Palm Beach Flagler Rotary Club.
Mindful Divorce P.A.
205 Worth Ave. Suite 303
Palm Beach, FL 33480
Phone (561) 537-8227
Office E-Mail: Chad@mindfuldivorcepa.com
Subscribe to our newsletter