The "P" Word – Why Prenups Aren't a "dirty" word anymore
Why Prenuptials are becoming much more common in Palm Beach County and Florida
While the divorce rate has remained relatively consistent at approximately 45% during the past twenty years, the number of prenuptial agreements has increased.
The slow rise in prenuptial agreements has coincided with couples choosing to get married later in life.  The average age of a first marriage in Florida is now 29.  The average age of entering into a second after divorce or losing a spouse has also increased.  Couples choosing to get married later in life for a variety of reasons are often times choosing to have a prenuptial agreement prepared.
Prenuptial agreements are more common now for several reasons.  The number one reason is that prenuptial agreements are no longer limited to wealthy individuals.  Reputable family law and divorce attorneys now draft prenuptial agreements for a reasonable flat fee.  Additionally, those entering into marriage after they have established themselves financially often times see great value in protecting assets, businesses and property they obtained prior to the marriage.
Our law firm provides the flat fee for preparation and execution of a prenuptial agreement on our website under the fixed pricing.
Individuals contemplating marriage in 2019 are still deeply in love and planning a life together, however, they are more realistic about the possibility of divorce.  Prenuptial agreements allow the potential spouses to have a reasonable plan in the event a divorce should ever occur.  This assures that a lengthy and contested divorce will never occur.  A properly drafted prenuptial agreement will save a lot of stress and money if divorce ever occurs.  It may also allow couples marrying later in life to enter into a marriage with less stress as to what could happen to everything they accumulated before the marriage if a difficult divorce were to occur.
While prenuptial agreements provide many benefits, they are not always appropriate.  In the event that a couple is planning to marry at a young age and without significant financial assets on either side, a prenuptial agreement is not a good idea.
About the Author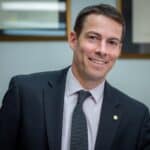 Chadwick M. Layton is a marital law and divorce attorney at Mindful Divorce, P.A. in Palm Beach County, FL.  Mr. Layton is also a member of the Florida Bar Family Law Section, the Susan B. Greenberg Family Law American Inn of Court of the Palm Beaches and the Palm Beach Flagler Rotary Club.
Mindful Divorce P.A.
205 Worth Ave. Suite 303
Palm Beach, FL 33480
Phone (561) 537-8227
Office E-Mail: Chad@mindfuldivorcepa.com
Subscribe to our newsletter