How is Alimony Calculated in Divorce?
Alimony may be sought by either spouse during a dissolution of marriage proceeding.  However, an alimony claim does not guarantee an award of alimony.  When determining whether to award any alimony or spousal support, specific legal findings must be presented to the court as to whether the party seeking alimony has an actual need for financial support and whether the other spouse has the ability to pay alimony.
Prior to broaching the subject of alimony, divorce practitioners should first consider how the marital assets will be divided between the spouses as part of a global marital settlement agreement.  The legal term for this exercise is the equitable distribution of both assets and liabilities that accrued during the marriage.
The reason for addressing equitable distribution of assets prior to considering alimony is that any need for alimony and ability to pay by the other spouse must be considered based upon the financial situation each spouse will be in post divorce.  For example, where the parties were married for ten years and accumulated $400,000 in marital assets, equitable distribution should first be applied to those assets to a put each spouse in an equal financial position at the conclusion of the divorce.  Each spouse may be awarded $200,000 in assets in the equitable distribution schedule.
The alimony claim will then be considered based upon the financial position of each spouse including the assets they received from equitable distribution of the marital estate.
There are many other important factors which must be considered when bring a claim for alimony or defending against a claim for alimony in divorce.  They include the standard of living established during the marriage, the length of the marriage, the  earning capacity of each spouse and the financial resources of each party.
The law firm you choose to guide you through divorce should match your goals for divorce.
About the Author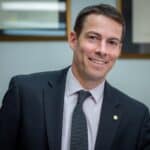 Chadwick M. Layton is a marital law and divorce attorney at Mindful Divorce, P.A. in Palm Beach County, FL.  Mr. Layton is also a member of the Florida Bar Family Law Section, the Susan B. Greenberg Family Law American Inn of Court of the Palm Beaches and the Palm Beach Flagler Rotary Club.
Mindful Divorce P.A.
205 Worth Ave. Suite 303
Palm Beach, FL 33480
Phone (561) 537-8227
Office E-Mail: Chad@mindfuldivorcepa.com
Subscribe to our newsletter