How To Avoid A Nasty Divorce
War of the Roses is not your goal here.  Movies and cocktail parties love the nasty divorce story.  Each spouse spares no expense to inflict as much harm as possible on the other spouse.  Whomever is left standing wins the final battle.
Luckily, this is not the real world.  Responsible and reasonable adults get divorced every day.  They don't fight.  They don't end up in Court.  They don't spend $15k on attorney's fees that do them no good.
If you are considering divorce, there is a good chance that you love your spouse and you have no interest in harming him or her.
You have been through the trials and tribulations and know that you are no longer in a healthy marriage.  Deciding that you are going forward with a divorce does mean that you lose your common sense and intelligence.  Obtaining an amicable and professional divorce settlement is the logical solution.
Amicable Divorce Solutions
An ethical and experienced divorce attorney can help you.  The attorney will meet with you (via zoom or in person) to discuss the facts and finances of your marriage.  More importantly, the attorney will listen to what is most important to you in your divorce.
What important goals must be accomplished to achieve your successful divorce.  What steps can we take during your divorce to help you get to your next station in life as a single person.
Our law firm provides clients with a fixed fee divorce option to be as transparent as possible.  Our focus is on helping clients achieve a successful divorce and not on running up hourly bills.
Additional information is available on our website including:
About the Author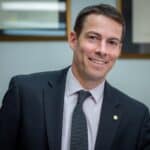 Chadwick M. Layton is a marital law and divorce attorney at Mindful Divorce, P.A. in Palm Beach County, FL.  Mr. Layton is also a member of the Florida Bar Family Law Section, the Susan B. Greenberg Family Law American Inn of Court of the Palm Beaches and the Palm Beach Flagler Rotary Club.
Mindful Divorce P.A.
205 Worth Ave. Suite 303
Palm Beach, FL 33480
Phone (561) 537-8227
Office E-Mail: Chad@mindfuldivorcepa.com
Subscribe to our newsletter