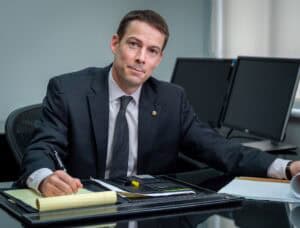 Marital & Family Attorney
Managing Partner, Mindful Divorce, P.A.
Chad was admitted to the Florida Bar in 2009. Chad has focused on helping clients successfully navigate the legal process of divorce in Palm Beach County for over 13 years.
For the first four years of his career, he served as an associate family law attorney at an established law firm in Palm Beach County. During the next six years, he was a partner at the firm and led the family law practice group.
In March of 2019, Chad went on to found the law firm of Mindful Divorce, P.A. Here, Chad has implemented a different approach to divorce matters in Palm Beach County.
Traditional law firms in Palm Beach County have for the most part ignored the emotional and financial cost of divorce. The consistent delays and unknown cost of divorce has wreaked havoc on the lives of many. Other law firms have failed to adapt to the spiraling costs of divorce. Instead, they simply keep doing more of the same and keep getting the same results – unhappy clients.
Chad has worked hard to establish a law firm that provides individuals with a better option for divorce. This approach to divorce is focused on helping clients through a very difficult time in their life. This approach focuses on avoiding unnecessary delays and unnecessary costs and unnecessary fighting. We provide clients with an option to hire an experienced family law attorney for a fixed fee.
The client and the attorney are then immediately a team working together to accomplish the most important goals for the client in their divorce. The attorney and the client are both working to find solutions and to avoid delays.
Chad works hard to treat each client individually and with respect. Divorce and family law matters require that the attorney listen to the client and to understand what is most important to the client in their divorce. Chad then works to fully engage the client in the process and to empower them to accomplish their specific goals in divorce.
Mr. Layton and the law firm of Mindful Divorce P.A. handle family law matters that include divorce, collaborative divorce, and prenuptial agreements.
Chad is a founding member of the Susan B. Greenberg Family Law Inn of Court in Palm Beach County. He also currently serves on the executive programming committee for the Susan B. Greenberg Family Law Inn of Court. Chad also is a member of the Palm Beach Flagler Rotary Club and serves on the Foundation Board of the Rotary Club, and he is a member of the International Academy of Collaborative Professionals and he is a member of the Palm Beach Association of Collaborative Professionals.
Outside of the office, Chad is a competitive tennis player at Seaview Tennis Center and Wellington Tennis Center and a nature enthusiast.